Alpha Course: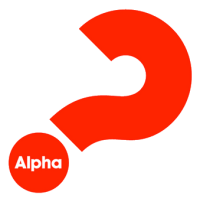 What is the Alpha course?
Alpha is a non-pressurised, fun and informative course. It is a place to share your thoughts and explore the meaning of life. The course is designed primarily for people who don't go to church or who haven't been to church in a long time and are interested in the Christian faith.

How Alpha began
The Alpha Course began in the late 1970's as a means of helping new Christians learn more about the Christian faith.
In 1990, former barrister Nicky Gumble realised the potential of the Alpha Course to appeal to a wider audience, and adapted the course to make it inclusive for anyone interested in the Christian faith.

The growth of Alpha in the UK and worldwide
The Alpha Course spread during the 1990's, initially in the UK and then internationally, as more and more churches and groups found it helpful and informal way to discuss questions about the Christian faith,
There are now over 55,000 courses worldwide in 169 countries. Alpha is supported by all major denominations.

Does someone need to be a Christian to do the course?
No, you don't need to be a Christian. The course is designed for anyone who is interested in asking questions or learning more about the Christian faith. Many people who attend have never been to church before.

Is there a fee?
There is no charge for attending the Alpha course.

How long is the course?
The Alpha course usually takes place over 10 weeks, with a day away in the middle

What is the format of the course?
Each session begins with a meal, and a chance to get to know others in the small group. This is followed by a short talk and a time of discussion, when everyone is welcome to ask questions and share their opinion with the rest of their small group.
The above information was taken from the Alpha's website.
For further information click below.